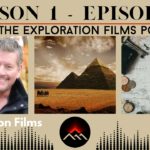 Podcast co-host, Carl Moeller interviews Steve Greisen (the founder of Exploration Films) about what to expect from this podcast. Get the inside scoop on your favorite Exploration Films flicks … behind the scenes stories, obstacles in the filmmaking, funny anecdotes, and more.
Be sure to 'Subscribe' on your favorite podcast app to get all the latest episodes.
Exploration Films is a leading distributor of faith and family movies and documentaries. Their focus is to deliver inspiring content that elevates the culture and evokes the best in the human soul. This is a place where curious truths and uncommon minds meet.
Stream Exploration Films content at ExploreFlix.world
With hundreds of great films, documentaries, history, concerts, children's programing and more, EXPLOREFLIX.world is a new streaming service that reflects your Christian world view. It's a safe-harbor in the storm. 7 days free trails, no commitment, no hassle, no kidding.
See the full library of Exploration Films movies: https://www.explorationfilms.com/
(Visited 38 times, 1 visits today)