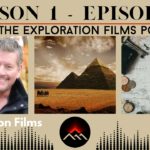 Oscar-nominated director Darrell Roodt and star Jamie Bernadette both sit down with host, Carl Moeller to talk about The Furnace. Darrell recalls his career, the state of filmmaking in South Africa, and both chat about the film.
Check out this film: https://www.explorationfilms.com/the_furnace.html
See the full library of Exploration Films movies: https://www.explorationfilms.com/
Film Storyline:
Newlyweds Mary and Matt celebrate Christmas – and their passion for running – with two honeymoon tickets to Africa's ultimate footrace, The Furnace. Their excitement to race together across the biggest animal reserve in the world has them inspired. 

Then in a horrific flash, everything's gone including Mary's purpose for living.
A year later, Mary is grieving. Struggling to breathe with an oxygen tank, she cries out her anger at God. Standing nearby, a man sees her suffering, and shares his own story of loss. Once a doctor in Africa, he fled to America when civil war annihilated his town. Now known by the nickname, 'Coffin,' he digs graves after losing his practice. Coffin urges Mary to keep on believing, push through and recover, offering his help as a doctor and friend. Over time Coffin's dedicated support and intense training helps Mary grow strong, and live to run again. But what will it take to let go of her pain and loss when she finally enters The Furnace?
Stream The Furnace at ExploreFlix.world
With hundreds of great films, documentaries, history, concerts, children's programing and more, EXPLOREFLIX.world is a new streaming service that reflects your Christian world view. It's a safe-harbor in the storm. 7 days free trails, no commitment, no hassle, no kidding.
See the full library of Exploration Films movies: https://www.explorationfilms.com/
(Visited 28 times, 1 visits today)