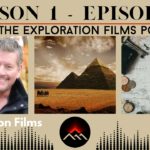 "Faith is the essence of life." Award-winning director Tracy Trost joins host Carl Moeller to talk about "The Lamp."
This timeless heartwarming story of loss and rebuilding stars Academy Award winner Louis Gosset Jr and takes you on a journey with Stan and Lisa. Their marriage is failing after the death of their son when a mysterious stranger presents them with a magical lamp and a chance to put things right.
It's a story adapted from a short Jim Stovall's book that's turned into a beautiful real-life cinematic experience of belief, focus, faith, the pain of loss, and the power of rebuilding.
Stream The Lamp at ExploreFlix.world
With hundreds of great films, documentaries, history, concerts, children's programing and more, EXPLOREFLIX.world is a new streaming service that reflects your Christian world view. It's a safe-harbor in the storm. 7 days free trails, no commitment, no hassle, no kidding.
See the full library of Exploration Films movies: https://www.explorationfilms.com/
(Visited 56 times, 1 visits today)