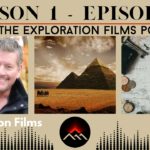 Through an unexpected encounter with wild bears, Michael Scheibler found a light that shines in his darkness and led him on a path to love and redemption. Host Carl Moeller sat down with Michael to talk about the film, stories behind the film, and what's been going on in the years since the film came out.
Also, this podcast's producer, Steve Reiter sat down with director Steve Greisen and cinematographer Simon Scionka about the back story for the film and funny behind the scenes stories.
Film Storyline:
You are about to experience something rare – Something controversial – Something dangerous. In northwestern Ontario, lies the little town of Emo. Michael Scheibler and his wife, Betty, bought 320 acres of land here. Little did they know there was something unusual about this place. Animals started appearing, finding sanctuary here. Deer, raccoon's, a wolf and then…out of the wild they came. Bears. Soon, Michael and the bears would develop mutual trust in each other and he began to do the remarkable….maybe unthinkable. He began to feed the bears…by hand.
But this story is not what you expect – Bruised by tragedy Michael's soul would be plunged into a darkness that stole his humanity and clawed away at his dreams. But through this unexpected encounter with the bears, Michael would see a light that would lead him on a path to love and redemption. Experience a rare film that will take you on an unpredictable journey…and a surprise encounter with the power of redemption. The Gentle Bear Man of Emo is an inspiring story of how wild animals taught a broken man to be human … again.
Stream The Gentle Bear Man of Emo at ExploreFlix.world
With hundreds of great films, documentaries, history, concerts, children's programing and more, EXPLOREFLIX.world is a new streaming service that reflects your Christian world view. It's a safe-harbor in the storm. 7 days free trails, no commitment, no hassle, no kidding.
See the full library of Exploration Films movies: https://www.explorationfilms.com/
(Visited 32 times, 1 visits today)