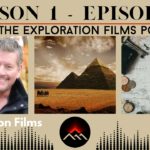 How has the film industry shaped culture? What films come to mind? Host Carl Moeller discusses Film and Culture with Steve Greisen, the founder of Exploration Films and John Stonestreet of Colson Center.
Steve shares his journey of being a missionary kid in Hong Kong, to become a musician that ended up in the film space. Then John & Steve talk about their opinion on culture, the big trends right now, and the films that have been fundamental in shaping the culture in general.
Check out the Breakpoint Podcast: http://www.breakpoint.org/
Stream our stories at ExploreFlix.world
With hundreds of great films, documentaries, history, concerts, children's programing and more, EXPLOREFLIX.world is a new streaming service that reflects your Christian world view. It's a safe-harbor in the storm. 7 days free trails, no commitment, no hassle, no kidding.
See the full library of Exploration Films movies: https://www.explorationfilms.com/
(Visited 50 times, 1 visits today)