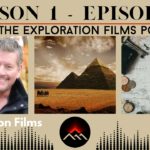 Charles Denler was commissioned by the Colorado Symphony to write music for them about the state of Colorado. With beautiful shots of Colorado nature from all 4 seasons and stunning musical performances, director Steve Greisen crafted this award-winning film. It was even nominated for a Grammy for best music film.
In this edition of the Exploration Films Podcast, host Carl Moeller sits down with Steve Greisen & Emmy award winner score writer Charles Denler about their first meeting, love for music and the making of this movie.
Stream Portraits of Colorado – The Making of a Modern American Symphony at ExploreFlix.world
With hundreds of great films, documentaries, history, concerts, children's programing and more, EXPLOREFLIX.world is a new streaming service that reflects your Christian world view. It's a safe-harbor in the storm. 7 days free trails, no commitment, no hassle, no kidding.
See the full library of Exploration Films movies: https://www.explorationfilms.com/
Know more about Emmy award winner Charles Denler here: https://www.charlesdenler.com/
(Visited 40 times, 1 visits today)