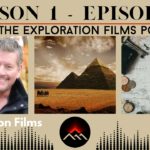 Imagine a story of a multi-millionaire & a retired cop sneaking into a closed country because they are searching for the 'real' Mt. Sinai … a trip fraught with peril, heat, police capture, & escape. That would make a great Indiana Jones film, right? Well, Bob Cornuke and Larry Williams did embark on that very adventure and Exploration Films' CEO Steve Greisen was the one to direct the documentary about that film.
On this edition of the Exploration Films Podcast, host Carl Moeller sits down with Steve & Bob to talk about the behind the scenes stories of the Exploration Films classic, "The Search For The Real Mt. Sinai."
Stream The Search For The Real Mt. Sinai at ExploreFlix.world
With hundreds of great films, documentaries, history, concerts, children's programing and more, EXPLOREFLIX.world is a new streaming service that reflects your Christian world view. It's a safe-harbor in the storm. 7 days free trails, no commitment, no hassle, no kidding.
See the full library of Exploration Films movies: https://www.explorationfilms.com/
(Visited 73 times, 1 visits today)