I walked into the Crowfoot Valley Coffee Shop in Castle Rock to meet a guy named "Charles". I didn't know much about him other than he had tried to arrange this meeting for the last two years. A year earlier a monster Colorado blizzard that closed all the highways and roads knocked out our scheduled meeting. "O well", I thought, "If this is supposed to happen it will in God's time". So here I was two years later, arriving at the meeting. Better late than never…
A Divine appointment?
How we first met was so serendipitous that it was almost comical. I was visiting The Park Meadow's Mall on the south side of Denver, and I had stopped to listen to a guy play a beautiful Celtic style electric violin. After his performance we chatted together for a bit and then I headed off about my business when suddenly I heard someone running up behind me. I turned around to see a smiling Charles with his beautiful 10-year old daughter in tow. Catching his breath from running he panted, "I didn't mean to be listening in on your conversation but did hear that you produce films?" "Documentaries" I replied. "My name is Charles Denler and here's my card" still grinning while he gathered his composure. "I write film scores, so if you ever need any music let me know! And oh! This is my daughter Moriah." And off he went, back into the busy mall.
Charles' claim to be a film score composer brought bit of a cynical response from me. Honestly if I had a dollar for every time someone told me they were in the film business….well you know the rest. But on the flip side this could be a divine appointment, I've had plenty of those. Time would tell.
A walk through an open door
So the day had finally come and I arrived at the coffee shop with more questions than answers. Entering the room I saw Charles was already there, sitting at a table. He quickly stood up and with a big grin, reached out his hand and proclaimed, "I don't know who you are, but I've had three dreams about this meeting!". Now I REALLY didn't know what to think! But as he described the dreams it became clear he was an intuitive, spiritually sensitive person and while this sounded a bit weird at the moment, it felt authentic and sincere. I've witnessed how creative types are often this way. As we talked I learned that Charles was the real deal and I liked him! He was also a very accomplished film composer and had worked on projects for National Geographic Television, Oprah, History Channel and many more. His music had won him two Emmy Awards and his impressive client list spoke for itself.
As we shared our stories over coffee we quickly realized that we also shared similar life journeys. Charlie was an upbeat positive guy and easy to like. We got along famously.
Coincidentally, the next day, I was flying with my film crew to Canada to film a bizarre story of a guy with an unusual connection to wild bears. I thought to myself, "This would be a great first project to work with Charles on". So when I proposed it, and he agreed and our working relationship began. Charles would do the scores for my films, "The Gentle Bear Man of Emo" and later would create an original theme for my film "The Master Designer – The Song" that we would record with The Prague Symphony, one of the greatest symphonies in the world. As time passed whether we were working or just hanging out, it was clear I had found a 'brother from another mother.'
An invitation
The Colorado Symphony performs in the incredible Botcher Concert Hall in downtown Denver, a spectacular venue for a really spectacular orchestra.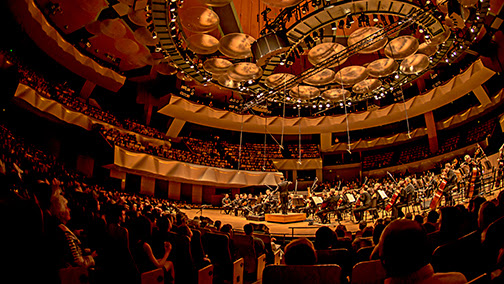 Charles had recorded music with them. He had written a score for a worldwide add campaign by the Colorado Department of Tourism called 'Come To Life'. Later the Denver Post reported the campaign was the most successful in history bringing $1.8 billion (yes that's a 'B') into the State of new tourism business. So the symphony directors floated an idea, a commission for a modern American Symphony (not many of these exist) but even better, a symphony that was inspired by the incredible beauty of Colorado. A film score if you will, but the film is what you see in our State when you hike, ski or canoe.
So, Charlie conceived the idea of Portraits of Colorado, An American Symphony. "Nothing like this had ever been done" an excited Charlie said to me, in a phone conversation. "There has never been a symphony created, inspired by the Rocky Mountains!" "I'd really like you involved with me in the project. Would you consider a film on this?" The answer for me was easy. I love music. I spent my young life with a band entertaining U.S. Military troops in Europe, which led to managing other music artists. Later, I married Nelly, who was a well loved Christian music artist with a band called The 2nd Chapter of Acts. Our early lives consisted of touring the world, doing 1600 concerts and playing for an estimated 4 million people. I also worked with a record company. Now as a film producer, for me the music of the film becomes the single most important element to the visual and emotional experience. So this was too easy… a music project with my dear friend, based on the beautiful State of Colorado where we both lived. What's not to like?
Fine art and music
Charles needed the inspiration to write and has always loved fine art. One artist in particular that caught his eye was Jerry Malzahn, a landscape artist with a fondness for Colorado scenery. His notable work hangs in the White House, Navel Academy and in galleries across the U.S. Jerry and Charlie had briefly met some years before when by coincidence, the Denler's bought their dog, a King Charles Spaniel from Malzhan's wife. Charlie had noticed his art in the house, and as they said goodbye, left a couple CD's of his music with Jerry as a thank you for the do
Now, years had passed and Charlie needed inspiration. Remembering his meeting with Jerry he pulled up his paintings online. He found Colorado scenes named Long's Peak , Spanish Peaks and Dream Lake at Rocky Mountain National Park. Malzahn's work echoes the inspiration of masters like Albert Bierstadt and Thomas Moran and it captured Denler's heart. Charlie printed copies of the scenes and hang them around his studio for inspiration. It worked. The writing process began to flow and Charlie began to compose.

One day feeling a bit guilty Charles gave Malzahn a call to tell him about the symphony and the art inspiration he was drawing from. Jerry was stunned. This would be one of the great honors of his life. Jerry explained that he had been listening to Denler's music as inspiration to paint. Well, it left them both stunned and amazed. The symbiotic relationship between these two artists is captured in the film and its significance is worth pondering.
A conductor, a composer and a filmmaker
Scott O'Neil, the resident conductor of the Colorado Symphony, is a really remarkable guy. He was the conductor of the Utah symphony and now was the Denver Symphony resident conductor. He's a brilliant musicologist. His Ted-X talk is mind bending, his education and depth is a wonder to behold. He would be intimidating if he wasn't so humble. Scott is a good-humored gentleman and Scott, Charlie and I got along famously as we worked through pre-production planning and discussions. It would take a year, but it was a year I wouldn't trade for anything because friendships were forged, it was fun…not work at all. Scott with his classical training and Charlie with his film score approach and me with my documentary gifts now melded into a project that was modern but still symphonic. Yet it wasn't without controversy.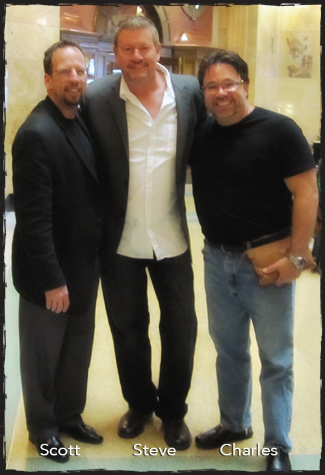 Breaking rules and creating something new
Charlie's Portraits of Colorado would not feel like a traditional symphony. After all it was a modern symphony. But to some classical music purists, the words modern and symphony don't go together in the same sentence.
During the Classical Masters the only way you could hear music was attending a live performance and it was typically structured in three to four 20-minute musical movements. But in today's modern world Charlie understood that people listen to music differently, on their iPods and mp3 players. For his symphony, he would employ shorter songs of three to four minutes, be a related collection of ten melodies, all inspired by different Colorado locations and all connected by a strong central theme. And this symphony would draw from Denler's film score sensibilities, where the over-arching music theme in a movie typically reprises in various forms throughout the film reminding the listener of the 'grand story'. With Scott O'Neil's support, encouragement and guidance the project was completed and a date set for the premier and the recording.
The premier
To say it was nerve racking to premier such a piece would be an understatement. The hall was buzzing with guests, many who were symphony members. How would they respond to a modern symphony? Artist Jerry Malzahn art was boldly in display down the halls of the spectacular Boettcher Concert Hall. Denler would play the grand piano during the performance and Moriah now just 17 years would step out on the stage to with her big soprano voice to sing the solo on the spectacular song "Moment At Dawn". The night was a resounding success with some in the audience even brought to tears. We all felt exhilarated and relieved.
A film about a film score
The film I was creating was a story of the making of the film score and included the full performance of the score. So we called it Portraits of Colorado – The Making of A Modern American Symphony. It would take over a year for my crews to capture spectacular images of towering snow capped mountains, morning sunrises of shimmering pinks and sunsets of peach and dark red…
..deep blue carpets of summer Columbines stretching across the massive mountain landscape and fall Aspens afire with gold and red..
..the sounds of crashing waterfalls, the hoof beats of wild horses running the plains, and the magical silence of a gentle snowfall.
Each season brought another breathtaking image that once married to the music, turbo charged the whole emotional audio experience. But there was more. Music doesn't come out of a vacuum, it comes out of a human soul. I wanted the viewer to see and feel Charlie's personal journey, which was a mix of brokenness and overcoming joy.
What we ended up with was what Colorado sounds like. An inspiring and moving audio and visual experience that celebrates beauty. Author Matt Heard probably described it best when he said,
"The Film Portraits of Colorado is a virtual feast for the senses, a visceral masterpiece. It invited me to truly experience the story of a symphony and the sound of the Rocky Mountains. The mesmerizing teamwork of artists and technicians led by Charles Denler, Scott O'Neill, and Steve Greisen beckoned me beyond the mere passive posture of listening to a performance or watching a film. In addition to witnessing the authentically human journey of a composer, I lingered with the smell of wildflowers, inhaled the mist of a canyon waterfall, felt the rumbling of a running herd of buffalo, and squinted as mountain peaks relinquished a sunrise.

Further, I was invited into the dance that happens when humanity embraces the beauty of nature, and nature actually returns the gesture with the sum of the impact being far greater than the individual parts. The majesty of the music and images partnered to amplify our ability as human beings to enter into the heart-nourishing power of Beauty."
The film would go on to win film festivals across the country, and be nominated for a Grammy for 'Best Music Film'.

That serendipitous chance encounter was indeed a 'divine appointment' and I believe for a divine purpose. When you watch the film I hope you agree.
CLICK THE PICTURE BELOW TO BUY THE DVD OR BLURAY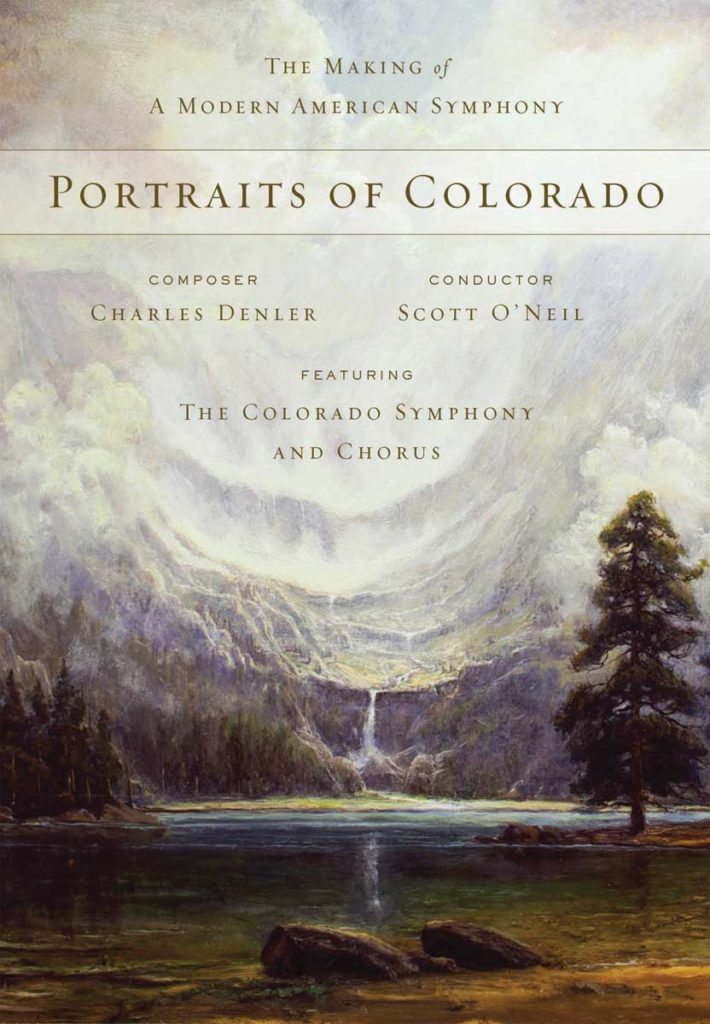 END
Post Note:
– Steve, Charlie and Scott remain close friends and brothers.
– Landscape artist Jerry Malzan would provide art for the film cover.
– German microphone company Neumann donated over $80,000 dollars in mics for the recording.
– Later Charlie would sink his musical influence deeper into Colorado writing a music theme for The Colorado Rockies baseball team.
– As of this writing Senator Owen Hill has written a proposal to make Portraits of Colorado the official symphony of Colorado.
Festivals Won

• Worldfest Houston – Special Jury Remi Award
• Canada International Film Festival – Rising Star Award
• New York City International Film Festival
• Cape Town, Winelands International Film Festival, South Africa
• Southeastern International Film Festiva
• Accolade Global Film Festival
• Grace Film Festival
• Grammy Nominated for "Best Music Film"