Scientific Discoveries : Explore The Wildlife Kingdom Value Pack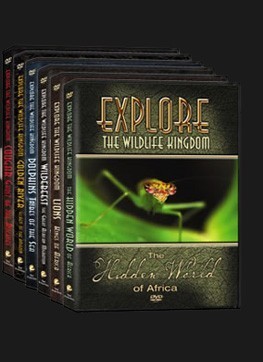 VALUE PACK: Explore The Wildlife Kingdom: DVD's Lions, Dolphins, Hidden World, Golden River, Cougar, Wildebeest
$107.70 $91.55 On Sale!


Includes all six titles:
LIONS Kings of Africa
DOLPHINS Tribes of The Sea
THE HIDDEN WORLD of Africa
GOLDEN RIVER Secret of The Amazon
COUGAR Ghost of The Rockies
WILDEBEEST The Great African Migration


All titles are on DVD






Explore The Wildlife Kingdom : WATCH NOW
Explore The Wildlife Kingdom : What people are saying
"Sights so dazzling they almost look unreal."
- USA Today
" ...often breathtaking!.."
- People Magazine
"...undeniably watchable and effective, and well worth watching."
- The New York Post

GRANT GOODEVE - About the Narrator
Best know for playing the role of David, the oldest son, on Eight Is Enough for five seasons. Grant also appeared on the television program Northern Exposure, One Life To Live, and hosts If Walls Could Talk on Home and Garden Television, and the HGTV specials Homes of our Heritage, Log Homes: An American Tradition.

PHONE ORDERS

1 800 964 0439 /

CONTACT US / FAQ / CUSTOMER SERVICE / RESELLERS