Scientific Discoveries : Life's Story
LIFE'S STORY - The One That Hasn't Been Told
$22.95
What does modern DNA research now prove about the theory that simple cells evolved into all life on earth? Simply that evolution is impossible. So why is this information being kept from the general public? Should Darwins theories still be taught as facts in our educational institutions?

In a wildlife program unlike any other seen before, you will journey to discover the story of life itself. This program examines the long held beliefs that have been the foundation of the whole understanding of natural selection for more than 150 years.

How much can animals change? Why do so many species depend upon one another to survive? Where does instinct and intelligence come from? And what do the designs of creatures alive today reveal about their history?

Learn about the abilities of parrot fish and dolphins, the habits of ostriches and wildebeest, and the skills and instincts of cheetahs, giraffes and lions.

Filmed and researched over a five-year period in more than ten different countries, Life's Story explores all these issues and many more in on the most visually stunning and informative wildlife productions available today.

Running time 56 minutes
Suggested age range 13 yrs - adult
DVD EXTRA FEATURES:
School Dictionary
Campfire Safari notes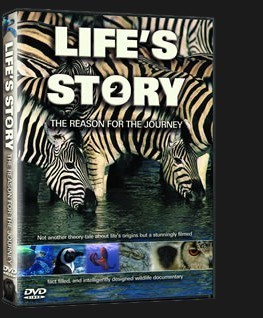 LIFE'S STORY 2 - The Reason For The Journey
$22.95
LIFE'S STORY 2 - DVD is a factual and visual feast from beginning to end. It takes you on an incredible documentary journey of discovery to unravel some of the most amazing mysteries of the natural world.
From simple cells in the seas to fish, amphibians, reptiles, birds, mammals and eventually humans; this we are told has been the evolutionary tree of life. So how does this theory fit in with all we see around us?
After thousands of years of observable evidence and advances in biological research, do Darwin's evolutionary ideas measure-up to the discoveries of modern science today?
In this program you will learn about the navigation techniques and defense mechanisms of marine life, the complex behavior of birds, the differences between apes, monkeys and humans, "ape-men" mixing link hoaxes, and how some of the large mammals feed and digest their food.
From Egypt and the depths of the Red Sea to the Islands of Malta, the Cape of Good Hope and the Savannahs of South Africa, now you can see for yourself and understand the intricate designs of natures vast array of creatures and our place among them in this wonderfully created world.
Many unusual, rare and endangered species are featured in this program including animal behavior never filmed before.
Narrated by Nick Jackson - BBC National Radio
Suitable for use in schools. 10yrs - Adult
DVD EXTRAS:
On location insight
The making of Life Story 2

LIFE'S STORY - The One That Hasn't Been Told : WATCH NOW
Life's Story clips are online! Watch actual footage from the feature.

LIFE'S STORY - The One That Hasn't Been Told : What People are Saying
"I had to view the program twice, it was so good, I couldn't believe it the first time I watched it."
- Dr. David Rosevear: President of The Creation Science Movement - United Kingdom
"The photography is breathtaking, the science is crystal clear and the application is thoroughly Biblical. Life's Story is surely a contender for Best in it's Class! I commend it wholeheartedly."
- Dr. John Blanchard: Author (John has sold over 15 million books in 40 languages.)
"Life's Story is an exciting educational video about the origin, the relationships and destiny of different creatures that are found in many varied locations on the earth."
- Monty White: CEO Answers in Genesis - United Kingdom

'.$gain_str; ?>


PHONE ORDERS

1 800 964 0439 /

CONTACT US / FAQ / CUSTOMER SERVICE / RESELLERS